Camille



Real name

Camille Bonnie Primrose

Gender

Female

Date of birth

March 18th, 1999 (Age 21)

Hair color

Chocolate brown

Eye color

Forest green

Hometown

New Orleans, Louisiana

Voice

Ivy

Ethnicity

Caucasian-American

Hobbies

Girly stuff, bunnies, candy, cats, cooking, cute kid shows, cute things, disney, dogs, dresses, fairies, fashion, girls, kids, lolita, making friends, pandas, princess, surprise eggs, sweets, unicorns, her family, sports, video games, boys stuff

Nicknames

Bonnie, BonBon, Bonni, Cammy, Cam, Cammi, Cammie, Cherry, Cherrie,
Camille
(born
Camille Bonnie Primrose) 
is a character made by Trinity Hayes. She is  
Bailee
's Our little angel castmember as "Cherry" Cheryl Mcbreen and good friend. 
Family
Harold Primrose(Father):  Febrauary 12th, 1972  Age: 48
Unnamed Mother & Harold's ex-wife
Michael Greensmith(step-father): September 10th, 1981 Age: 39
Louis Primrose(Older Brother) : April 15th, 1996 Age: 24
Hailey Primrose(sister): July 22nd, 2005 Age: 15
Toby Primrose(adopted brother): May 5th, 2007 Age: 12
Jeffrey Primrose(adopted brother) : April 3rd, 2011 Age: 9
Lana Primrose(Grandmother): November 4th, 1945 Age: 72
Edmond Primrose(Grandfather): October 11th, 1941 Age: 78
Boyfriend: Single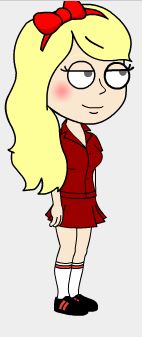 Life
Camille was born in New Orleans, Lousiana, she was the daughter of Harold Primrose, a high ranked police officer & Michael Greensmith, an movie theatre ticket seller, her school teacher mother had left the family for her co-worker, also school teacher after they got fired for adultery. She suffered dwarfism when she was born,  was judged at school for not having a mother & two fathers and dwarfism. people excluded her from social group, adults rebuked her about her mother. Bailee found her in school hallways crying because of mistreatments, he comforted her and told her ignore what people think of her, she deserved kindness then they become friends. She won't let anything stop her from living good life.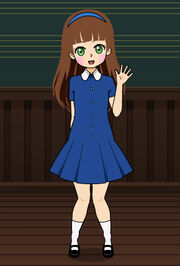 Personality
Camille is sweet, carefree, kind hearted, somewhat shy, fun, helpful, tomboyish, happy, cheerful young woman. She loves to play with her younger brothers jeffrey & toby, her younger sister, her best friend bailee, & sometimes her big brother. She gets offended when anyone who makes fun of her for having gay parents and her dwarfism.
Physical Appearance
Camille isextremely small for her age, She is a young woman with mid length straight brown , green eyes, fair skin complexion, and pink rosey blush on both of her cheeks like bailee's. Her height is 4'1(7 inches taller than bailee) which is too short for an average female her age and .therefore she have a dwafism.
Camille wear dark blue buttoned dress, blue hairband, black maryjanes, white socks, She sometimes wear other outfit.
Trivia
Everyone thinks she's little girl, but she's not!
She got bullied and shunned due to her having gay parents or not having a mother at young age
Her favorite MLP character is fluttershy
Community content is available under
CC-BY-SA
unless otherwise noted.