Caroline0204

Caroline0204's July 2014 Look

Born

Michael Halvik
April 26, 1998 (age 20)

List of usernames

Caroline0204
FlashSentry98Swell
GoAnimateMaster1998
PCXSAYesQCXKSNo
FSComedian2014
HardwellAndTiëstoFan1998 (most recent)

GoAnimate Voice

Professor (everyday usage)
Wiseguy (irate state)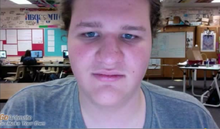 Caroline0204 (born April 26, 1998) (also known as FlashSentry98Swell, GoAnimateMaster1998, PCXSAYesQCXKSNo, FSComedian2014, and most recently HardwellAndTiëstoFan1998), is a Scandanavian (please correct me if I'm wrong.) GoAnimate user, best known for creating grounded videos. He is classified as a Good User, having, as of June 2015, 3,738 subscribers on his YouTube channel, turning out that he might be the most popular grounded videos GoAnimator. He is Grade 7 teacher or adviser in his school. His first birthday was on April 26, 1999.
.
Friends and Enemies
Friends
LouieLouie95
Alex Kimble
Optimus500050 (formerly Jamiem2001, VideoFan2001)
Darius
Kody Crook
Ryan Helmke
MrSportVevo
My Little Pony Friend
Erick Punkette
Joseph Selaty
MeticSystem590
GrootYesBobbyNo
AMSalley94
Nemo333m
SpriteYesVeggieTalesNo
JerryBerrelarmeySucks666
Cherry the Sackboy
Ruthie Rainbow
Slippy V
Nissan2903
OptimusPrimeYesMegatronNo
MountainFilms Pro
Phillip Psareas
Kevin Toon
Dylan Johnson
Taylor JoliCoeur
Courtney Springer
Matt Crowley
GoAniMonster
EricCartmanFTWTinkyWinkySucks
Kristin Konkle
Garrett Simmers
GreatMario54321
ToonamiFan7801
etc.
Enemies
GrandChase RealCook
Gligar13Vids
Luke Gartrell
SamRovioFan
Lothos GrandChase
Tobakilacion
Marcus Tw*t
Tobakilacion SuperFan
HenryRules135135
Andrew William
likeplaneboy
Warren Cook
John William
AntiUTTPClan2000
Tommy Parky
UTubeTrollPolice
Dora Cool
Dora Rocks
Boots Rocks
TheCookeria
ZakReaters
gta5xboxfan
Johnwilliam1
HackForum
etc.
Likes and Dislikes
Likes
GoAnimate
YouTube
Character Grounded Videos
Non-Bad User Ungrounded Videos
Animating
My Little Pony: Friendship is Magic
Grounded Series you should do Videos
Flash Sentry
EDM
Spongebob Squarepants
Angry German Kid
Downfall Parodies
Mane 7
Pop music
School
Happy Tree Friends
XBOX 360
Spanish
Good Users
etc.
Dislikes
Ruined Grounded Series
Strikes
GoAnimate Wives
Grounded Video Rants
GoAnimate Rants
Bad Users
Hackers (eg: HackForum)
etc.