Croc is a very good video game character made by Argonaut Software and Fox Interactive.
Born: September 29, 1997
Age: 18
Voice: Brian
Friends: CpSkyYesGCNo, Skyler Hawkins, The Gobbos, King Rufus, Swap Meet Pete, Sophie the Otter, Rayman, Globox, Yoshi, Alex Kimble, L Ryan, TheColossalD, Timon and Pumbaa, Homer Simpson, Peter Griffin, Spongebob, Patrick Star, Pinocchio, Spyro, Optimus Prime, Skyler TheGoAnimateGirl, African Vulture, KeybirdComedianVEVO, Aladdin etc.
Enemies: Stephanie Gavin, Baron Dante, Tooty the Feeble, Flibby, Chumly, Demon Itsy, Neptuna, Cactus Jack, Fosley, Soveena The Squid, Cannon Boat Keith, Flavio The Thermal-Fish, Roger Red Ant, Lava Lamp Larry, Venus Fly Von-Trappe, The Village Masher, The Dantinis, Warren Cook, Powerjohn25 UTTP, Andy Panda, Justin Bieber, Rebecca Black, Kim Jong Um, Golden Freddy, SupermarioZaki etc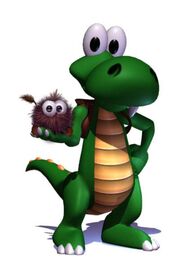 Community content is available under
CC-BY-SA
unless otherwise noted.