Bodyguards! Protect the page Domo Animate!

This page is protected by the admins to prevent vandalism.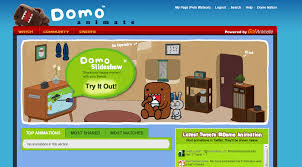 Domo Animate is a former affiliation of GoAnimate. Based on many users' opinions, it seemed to them 'boring' compared to GoAnimate. Unlike GoAnimate, it lacked Lil' Peepz, Comedy World, Business Friendly, text-to-speech voices, and the character creator, as it was founded when GoAnimate was in diapers. The grounded videos 'closest to the finest quality' use the Stick Figure theme and speech bubbles (as a substitute to TTS voices, which however wasn't feature, because the site's founder, Jexx, became inactive after 2012, the site became outdated, with no updates.) It eventually closed down on September 15, 2014 and its links are now redirected to GoAnimate for Schools.
About it
Founded: 2008
Founder: Jexx (inactive since 2012)
Theme: Domo (Domo might be good, but most are here for grounded videos)
Status: Permanently closed (since 2014)