This page (Lucas) does not have a GoAnimate Counterpart, you can help the GoAnimate V2 Wiki by adding one. If a GoAnimate Counterpart is not added in 1 week after this notice is added, this page will be moved to the Creation Wiki. If related to Nintendo, Sega, or both, it will be moved to FanonLand Wiki. If related to anime or manga, it will be moved to Nihon Fanon Wiki.
Lucas is a Timid Boy from Earthbound.
on Igor's Videos, He has a crush on Chica the Chicken (for whatever reason) and Irina (Including Star Butterfly in SuperMarioZaki's Videos) (Due to Irina being a Timid Girl.)
STOP RUINING LUCAS AND OTHER CHARACTERS AND GO FIND BETTER SHIT TO DO WITH YOUR LIFE INSTEAD OF SINGING "LET'S GO ANIMATE CANCER! :D" AND MAKE CRAPPY BULLSHIT VIDEOS AND MAKING CHARACTERS OUT OF CHARACTER.
Also what the fuck? The categories of this article are quite offensive. 
What? Are you gonna bitch at me for writing true things? COME AT ME LOSERS!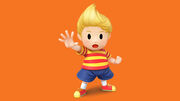 Community content is available under
CC-BY-SA
unless otherwise noted.