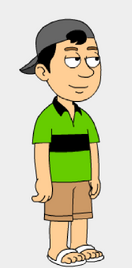 Bodyguards! Protect the page PaperPizza!

This page is protected by the admins to prevent vandalism.
PaperPizza
is a GoAnimate user. He is a object show fan who used to hate Gree Guy.
It's not a good idea to make him go insane. (it happened once on October 8, 2014. On the said, he was so angry that he went AWOL on this wiki. He unleashed his anger by vandalising pages on this wiki. He has since apologised for the incident, but PaperPizza also learned a POWERFUL, and painful lesson on keeping his anger off Wikia from his friends, when he was almost permanently banned from this wiki in the process.)
He joined Go!Animate on March 2nd 2014.
Likes
Good Users, Object Shows, BFDI, Inanimate Insanity, GoAnimate, Gree Guy, Sophie the Otter, Slugterra, Eli Shane, Peg + Cat (respect his opinion or he'll become insane), and Geo's World.
Dislikes
Bad BFDI Contestants, Courtney, Creative Galaxy, Bryan's World, Bad Users, Bad Inanimate Insanity Contestants, Khalion Chao, Users that are mean to him, and Bootlegs (mainly the ones SpaceHamster reviewed)
Gallery
Leaving
PaperPizza posted a final video after hearing O Holy Night and requested for his account to be deleted. It was successfully deleted, and some of the Good users and his friends were sad. A non sider was gone forever. Later, he announced he'd be revived soon on Youtube and may come to Google+
Community content is available under
CC-BY-SA
unless otherwise noted.