Bodyguards! Protect the page RobbiePwns135!

This page is protected by the admins to prevent vandalism.
RobbiePwns135



Name

Robbie

Also known as

RobbiePwns135
RobbieComedian (GoAnimate)

Wiki Debut

June 2014

Current status

Admin
Bureaucrat
Moderator

Voice

Eric (June 19th 2014-April 29th 2015)
Paul (April 30th 2015-present)
RobbiePwns135, (or by his GoAnimate name RobbieComedian, or just simply Robbie) is a good user, and Dailymotion user, who is known for his Dora Gets Grounded videos.
In April 2015 (via his GoAnimate account), Robbie announced that he will be quitting GoAnimate altogether in protest against Alvin Hung, who is attempting to make GoAnimate a site for business money-making purposes only. However, whether he'll still edit on this wiki is yet to be seen, as he has not been on this wiki since March 2015.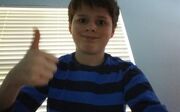 Current grounded series
Trivia
He has autism.
He is the only famous GoAnimator whom does not have a YouTube account.