"Clean Up Your Act!"

This article/section is in need of a cleanup to fit with the wiki's Manual of Style, please help the wiki by helping with the process. Please remove this template when finished.
What do you mean?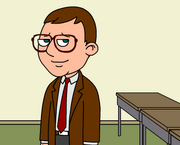 The page SnesCrazy has unreadable grammar. You can help fix the grammar by editing this page!
Example of good grammar: How dare you sleep in school and get expelled! You're grounded!
Example of bad grammar: How Dare You Sleeping in School Gets Expelled! You Grounded!
SNESCrazy is a idiot because he hates us just because we like go!animate and he forces us to use flash just like harry partridge. He also is part of the Anti-GoAnimate Police. he calls GoAnimators GoFags (which is very rude)