Total Drama Camp Island is the 1st season of the Total Drama GoAnimate Series. In this season 16 teens will compete in challenges to try to win a million dollars. They also appear in GoAnimate
(Season 1) <-> (Now On YouTube & Goanimate)
Episodes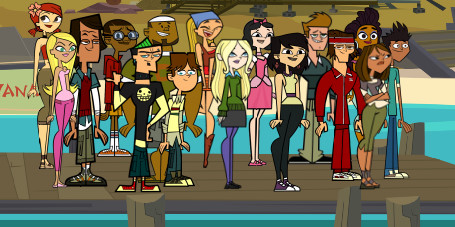 TDCI Episode 1 - This Is Really My Team?
TDCI Episode 2 - Water Tug Of War
TDCI Episode 3 - Eat Till You Drop
TDCI Episode 4 - Catch That Animal!
Order of Elimination
This only shows the episodes that have aired not the future episodes.
16th Place - Duncan
Did not like his team and agreed with the girls on the logo and name.
15th Place - Dakota
Did not play Tug Of War really and only cared about her new shirt.
14th Place - Courtney
Sky voted Courtney off.
13th Place - Noah
Did not compete.
Triva
This is a mix of seasons 1-6 of the cast.

It takes place on 1st island.

The characters are new so they don't know anything from seasons 1-6.
In episode 2 Tyler seems to still know Lindsay.

Though Zoey and Mike seem to not know each other.

Zoey starts having feelings for Mike in episode 2.

Dawn is the 1st person to know about Mike's personality disorder.

Nobody else has questioned about it yet though.

Chris is not the host in this season.
Anne Maria seems to be the main antagonist in this season.
In episode 3 this is the 1st time someone voted themself out. In this case Sky.

It is unknown who would have been voted out. It would eitheir be Dawn or Lindsay.

Dawn is the 1st character to be in the bottom 2 twice.
In episode 3 Sky makes an alliance with Tyler, Topher, and Courtney

In episode 4 Dawn and Ella make an alliance without anyone knowing.

Dawn and Ella's alliance is currently the only alliance so far.

Back in episode 3 Sky's music is the winnie the pooh music. It also does not end with someone leaving the dock of shame. This is the 1st time this has happened in the season.
This show originated from Canada And America